Tandem.
The tandem is an extended version of the FG type. With a 13,800-litre tank, the new CHD tandem axle is the largest trailed sprayer on the Dutch market to date. This relatively small manufacturer is taking a major step in developing its product range with this new model.
The following tank types are available:
T11000: max. Capacity 11,500 litres with 1,200 litres of clean water
T13000: max. Capacity 13,800 litres with 1,200 litres of clean water
The spray boom:
The high-quality, S355 steel boom is available in working widths from 27 to 54 meters. In consultation with CHD almost all intermediate and unusual working widths can be delivered. All boom types up to 42 meters are 3-fold (4-fold optional). From 42 meters working width, the booms are in a 4-fold layout The outer ends are foldable simultaneously as standard (independent left and right folding is optional). There are cable trays mounted on boom sections 1–3, to protect and carry all cables and hoses to the correct part of the spray boom.

Balans:
The entire boom is mounted on a central roller (1). A cylinder (2) provides balance adjustment, while the potentiometer (4) is responsible for the centring the balance. Two track rods (picture below) prevent machine movements being transferred to the boom.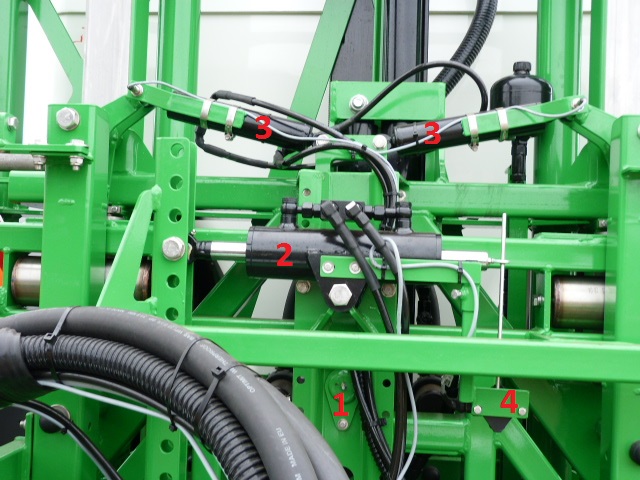 The balancing lock is activated and deactivated by two cylinders (3). This allows the balance to move freely even in the highest position. And this allows a spray height of 2,800 mm under the spray nozzles.
Tandem control:
The electronic driven steering on both axles reduces crop damage to a minimum. The front axle follows the track of the rear wheels of the tractor, while the rear axle follows the track of the tractor's front ones. This ensures following the tractor's track accurately and that the spray boom has no negative influence from steering.
You can select one of 3 steering modes on the compact control terminal:
Road mode
Field mode
Manual mode
Bij wegtransport boven  15 km/h, wordt de stuursnelheid gereduceerd
om u een veilige rit te garanderen.
For road transport above 15 km/h, the steering speed is reduced to ensure a safe journey.
The special axle and suspension construction allow a very large steering angle, so that the machine can keep on track through sharp curves. This construction offers other advantages too. You can mount very high wheels without limiting the maximum steering angle and there are no torsion forces exerted on the frame, even when working on very uneven ground