Self-propelled
CHD Self-propelled:
Comfortable cabin, driver's seat with air-suspension, co-driver's seat, radio + CD, active carbon filter, heating and air conditioning. Four spotlights and flashing light at the front and two spotlights at the rear. The diesel tank capacity is  330 litres.
Hydraulic 4-wheel drive with 4 steps: max. speed is 40 km/h with reduced engine speed, hydraulic differential lock, cruise control, hydraulic front and rear suspension. front axle - rear axle - 4 wheel and coordinated steering control, compressed air installation, pneumatic folding ladder, hydraulics: 150 l/min, 200 bar
Boom sections:
The high-quality, S355 steel boom is available in working widths from 27 to 54 meters.
In consultation with CHD almost all intermediate and unusual working widths can be delivered.
All boom types up to 42 meters are 3-fold (4-fold optional). From 42 meters working width, the booms are in a 4-fold layout The outer ends are foldable simultaneously as standard (independent left and right folding is optional). There are cable trays mounted on boom sections 1–3, to protect and carry all cables and hoses to the correct part of the spray boom.


Balance:

The entire boom is mounted on a central roller (1). A cylinder (2) provides balance adjustment, while the potentiometer (4) is responsible for the centring the balance. Two track rods (picture below) prevent machine movements being transferred to the boom.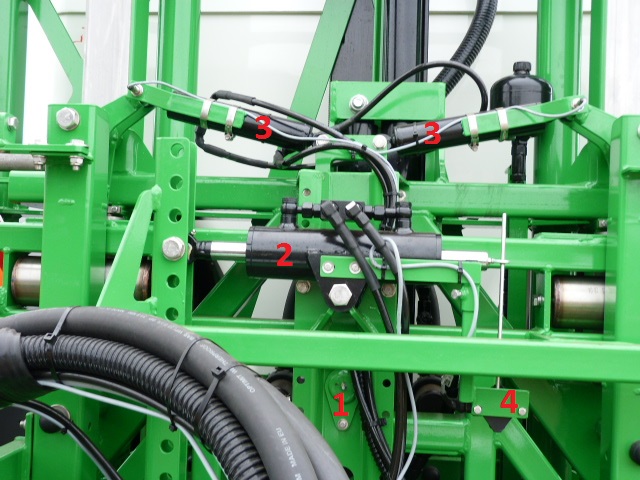 The balancing lock is activated and deactivated by two cylinders (3). This allows the balance to move freely even in the highest position. And this allows a spray height of 2,800 mm under the spray nozzles.

The lift mast:
The lift mast comprises two stainless steel tube-profiles. The intermediate frame (clad with high quality synthetic material), which raises and lowers the boom, runs on these profiles. The lift cylinder, with no steel cable, provides a constant lifting speed and it has an accumulator. The accumulator dampens movements through the vertical plane.
Hoses and cables that move with the boom are mounted protectively in an energy chain.
The hydraulic balance adjustment with automatic centring responds immediately to commands from the driver or from the DistanceControl II system (optional).
Fully folded, the CHD self-propelled sprayer can drive on public roads, with a transport width of 2.85 meters, depending on the tire size and track width.